Dave Grohl: pronto per il 2013 con "Sound City", il film (Video)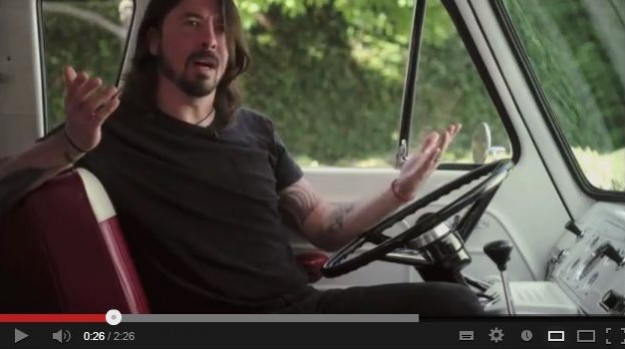 Dave Grohl è un personaggio che non smette mai di stupire, prima batterista dei Nirvana, poi fondatore e leader dei Foo Fighters, il tutto intervallato da un lavoro fatto con i Queen of Stone Age con cui ha annunciato di collaborare per il nuovo progetto discografico. Nonostante la sua intensa carriera musicale, sembra che le energie non gli manchino proprio, ed ecco che a Maggio decise di produrre e dirigere il film documentario improntato sugli storici "Sound City Studios", da cui sono usciti dischi leggendari come "Nevermind" dei Nirvana, "After the Gold Rush" di Neil Young e "Rage Against the Machine" dei Rage Against the Machine, senza dimenticare i lavori di altri nomi importantissimo come Kiss, Motorhead, Metallica, Johnny Cash, Guns'n'Roses e Red Hot Chili Peppers.
Finalmente – dopo tanto parlare – il film è pronto per il 2013 come annunciato dall'uscita del trailer. Il progetto è prodotto con la Roswell Film, una costola della Roswell Records, ossia la casa discografica dei Foo Fighters.
Dave Grohl: pronto per il 2013 con "Sound City", il film (Video)
La pellicola è stata diretta da Mark Monroe con l'aiuto di Paul Crowder, Jim Rota, John Ramsay e i Therapy Studios.
"Sound City" sarà presentato in anteprima al Sundance Film Festival e potrà essere acquistato preordinandolo al costo di 10 dollari.
Per questo progetto sono presenti veramente tante chicche, arricchite da interviste e testimonianze di nomi del calibro di Corey Tailor, Tom Petty, Alaine Johannes, Ross Robinson, Butcj Vih, Lars Ulrich, Josh Homme e molti altri ancora.
Dave Grohl, felicissimo del lavoro, non ha potuto far a meno di ringraziare i propri fan e tutte le persone che credono in questo film, dicendo: "Grazie per aver destinato i vostri risparmi per acquistare il film direttamente dal nostro sito! (…)Mi piace un sacco Sound City è l'opera più importante della mia vita. Spero anche per voi. Preparatevi psicologicamente a vederlo! Fatelo vedere ai vostri amici! Unitevi, date vita ad una band, e cambiate il mondo"
Commenti