La canzone di oggi: Lucy in the Sky with Diamonds dei Beatles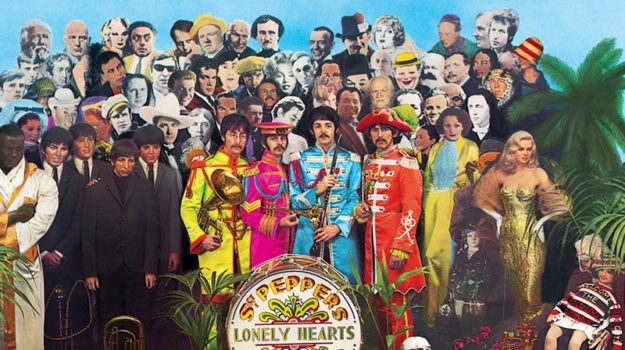 Il brano che meglio racconta la giornata di oggi è "Lucy in The Sky With Diamonds" dei Beatles. Il motivo è legato ad una speciale ricorrenza: il 1 giugno del 1967, i Beatles pubblicarono il famosissimo album Sgt. Pepper's Lonely Heart Club Band, che è rimasto un caposaldo nella storia della band inglese ma anche nella storia della musica.
Nel 2017 ricorre il cinquantesimo anniversario dell'album che cambiò la storia della musica che uscì con una copertina a colori nella quale i fab four di Liverpool appaiono come i quattro di una banda di paese visti attraverso un caleidoscopio o, per meglio dire, come si vede dopo gli effetti di una pasticca di Lsd.
> JHON LENNON, FILM CON AL PACINO BASATO SU UNA LETTERA DEI BEATLES
E il brano Lucy in The Sky With Diamonds, terza canzone dell'album, parrebbe proprio essere un inno all'Lsd (come indicherebbero le inziali in maiuscolo del titolo) anche se, secondo quanto dichiarato da Lennon che la scrisse, sarebbe invece ispirata a un disegno di suo figlio Julian.
> LE MAGLIE MUSICALI PIU' VENDUTE: BLACK SABBATH, BEATLES E LED ZEPPELIN
La trasgressione, la contaminazione con altre culture, la psichedelia, l'esperienza delle droghe, nell'album Sgt. Pepper's c'è tutto il mondo dei Beatles nella sua complessità. Ecco il testo della canzone Lucy in The Sky With Diamonds:
Picture yourself in a boat on a river
With tangerine trees and marmalade skies
Somebody calls you, you answer quite slowly
A girl with kaleidoscope eyes
Cellophane flowers of yellow and green
Towering over your head
Look for the girl with the sun in her eyes
And she's gone
Lucy in the sky with diamonds
Follow her down to a bridge by a fountain
Where rocking horse people eat marshmallow pies
Everyone smiles as you drift past the flowers
That grow so incredibly high
Newspaper taxis appear on the shore
Waiting to take you away
Climb in the back with your head in the clouds
And you're gone
Lucy in the sky with diamonds
Picture yourself on a train in a station
With plasticine porters with looking glass ties
Suddenly someone is there at the turnstile
The girl with kaleidoscope eyes
Commenti