Smashing Pumpkins: unica data italiana a Roma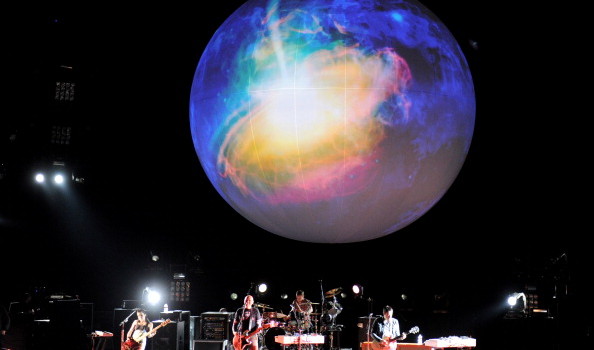 Si potrebbe scrivere un trattato si sociologia, oppure uno di economia, sugli Smashing Pumpkins.
Sul perché del loro ritorno sulle scene, risalente ormai al 2007, sul perché di un progetto ambizioso come
"Teargarden By Kaleidyscope" (che voleva soppiantare gli album nella loro accezione canonica) abbandonato in corso d'opera per quello che doveva essere "un album senza un album", "Oceania" (2012) ma che a conti fatti è un semplice album con tutti i crismi.
Si potrebbe pure parlare della perdita di mordente compositivo di Billy Corgan, o del suo odio verso i Radiohead, ma non è questa la sete, e tant'è…
Sta di fatto che il "Oceania Tour" sta riscuotendo buoni consensi un po' ovunque sui cinque continenti, ed  il disco a cui fa da promotore, "Oceania" appunto, è stato ben accetto da critica e pubblico se pur non brilli del glorioso spessore di "Mellon Collie and the Infinitive Sadness" (ma neanche di "Zeitgeist", ndr), recentemente ristampato in un mega box commemorativo .
Per la trance europea di tale tour è prevista un'unica data a in Italia, precisamente a Roma, il 14 luglio, in occasione del festival "Rock In Roma", all' Ippodromo delle Capannelle.
Per l'occasione, inoltre, la band vedrà come special guest sul palco la presenza di Mark Lanegan, storico leader degli Screaming Trees, ora solista e collaboratore dei Queens of The Stone Age, che aprirà il concerto e con la sua band presenterà il controverso quanto sperimentale  "Blues Funeral", il suo ultimo lavoro in studio.
Come al solito, i biglietti sono reperibili sul sito del circuito TicketOne al prezzo di 40€ più diritti di prevendita, o presso il botteghino.
4 condivisioni e commenti
Condividi e commenta!
Commenti