I Guns N' Roses infiammano il Gods of Metal 2012: Video
I Guns N'Roses ieri si sono fatti valere in occasione del 2°giorno del Gods of Metal 2012. Diecimila fan in delirio hanno seguito il live di Axl Rose e soci.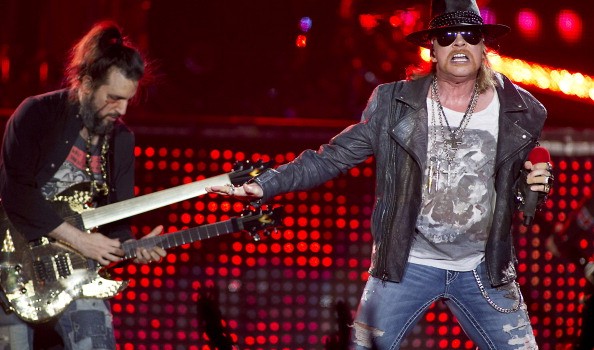 In questi giorni a Rho, in provincia di Milano si sta tenendo il Gods of Metal. Un Axl Rose in grandissima forma ieri ha esaltato i fan dei Guns N'Roses, proponendo una scaletta con tanti pezzi storici, unitamente a brani più recenti.
Un Axl Rose che nonostante le 50 primavere e i suoi continui colpi di testa, è riuscito a deliziare l'Arena Fiera Milano di Rho. Per chi non lo sapesse,  il concerto è  durato più di 3 ore, finendo col  mandare in visibilio oltre  diecimila fan. I Guns N'Roses hanno dunque dato spettacolo al 2°giorno del Gods of Metal 2012.
Dopo un'intro sottotono, è partito il pezzo "Chinese Democracy". Il concerto è poi andato avanti con la band che ha alternato brani prodotti più di recente con altri di vecchia data. La band ha persino trovato il tempo di eseguire alcune cover, su tutte "Whole Lotta Rosie" degli Ac/Dc.
Di seguito la sceltta del concerto di ieri dei Guns N'Roses:
1. Intro (Splitting the Atom, Massive Attack song);
2. Chinese Democracy;
3. Welcome to the Jungle;
4. It's So Easy;
5. Mr. Brownstone;
6. Sorry;
7. Rocket Queen;
8. Estranged;
9. Better;
10. Richard Fortus Guitar Solo;
11. Live and Let Die;
12. This I Love;
13. Motivation;
14. Baba O' Riley;
15. Street of Dreams;
16. You Could Be Mine;
17. Ballad of Death;
18. Sweet Child O'Mine;
19. Another Brick In The Wall Pt 2;
20. Goodbye Yellow Brick Road/Someone Saved My Life Tonight;
21. November Rain;
22. Glad to Be Here;
23. Don't Cry;
24. Civil War;
25. Whole Lotta Rosie;
26. Knockin' On Heaven's Door;
27. Nightrain;
28. Used to Love Her (eseguita insieme a Sebastian Bach);
29. My Michelle (in compagnia di Sebastian Bach);
30. Patience;
31. Paradise City.
Per oggi, 23 Giugno 2012, sono attesi al Gods of Metal:
Motley Crue (dalle 21.45 alle 23.45);
– The Darkness (dalle 17.55 alle 19.05);
– Gotthard (dalle 16.15 alle 17.25)
– Slash featuring Myles Kennedy and th e Conspirators (dalle 19.35 alle 21.00)
Sarà di nuovo spettacolo? Date le premesse e gli interpreti è lecito pensarlo.
I Guns N' Roses infiammano il Gods of Metal 2012: Video
Commenti