Rolling Stones: è uscita "One more shot" (VIDEO)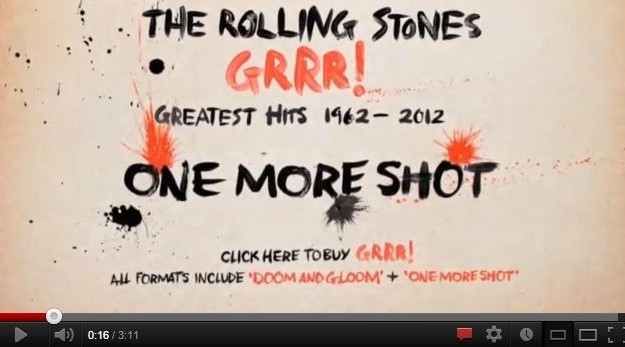 Il tempo passa ma loro sono come il buon vino, migliorano sempre. Ed ecco che la band in procinto di festeggiamenti e lancia un altro anticipo di "Grrr", l'album in uscita il 12 Novembre.
Era già stato messo in rete il singolo "Doom and gloom" e già da questo brano si era capito che Mick Jagger e compagni non aveva perso la loro vena rock. Ora è stato diffuso online il secondo singolo, si tratta di "One more shot" e anche questo inedito non ha deluso i milioni di fan sparsi per il mondo. Il brano è stato realizzato lo scorso Agosto a Parigi da Mick Jagger e Keith Richards ed è stato lanciato, in anteprima assoluta, Giovedì 8 Novembre sulla stazione radiofonica anglosassone BBC 6 Music.
Rolling Stones: è uscita "One more shot" (VIDEO)
Quest'altro inedito, servirà per trainare la vendita del disco/raccolta che nella versione base di tre CD avrà i seguenti brani:
Disco Uno
– Come On" (Chuck Berry)
– Not Fade Away (Charles Hardin, Norman Petty)
– It's All Over Now" (Bobby Womack/Shirley Womack)
– Little Red Rooster" (Willie Dixon)
– The Last Time
– (I Can't Get No) Satisfaction"
– Time Is on My Side" (Norman Meade)
– Get Off of My Cloud
– Heart of Stone
-19th Nervous Breakdown
– As Tears Go By" (Jagger/Richards/Andrew Loog Oldham)
– Paint It, Black
– Under My Thumb
– Have You Seen Your Mother, Baby, Standing in the Shadow?
– Ruby Tuesday
– Let's Spend the Night Together
– We Love You
Disco Due
– Jumpin' Jack Flash
-Honky Tonk Women
– Sympathy for the Devil
– You Can't Always Get What You Want
– Gimme Shelter
– Street Fighting Man
– Wild Horses
– She's a Rainbow
– Brown Sugar
– Happy
– Tumbling Dice
– Angie
– Rocks Off
– Doo Doo Doo Doo Doo (Heartbreaker)
– It's Only Rock 'n Roll (But I Like It)
– Fool to Cry
Disco Tre
– Miss You
– Respectable
– Beast of Burden
– Emotional Rescue
– Start Me Up
– Waiting on a Friend
– Undercover of the Night
– She Was Hot
– Harlem Shuffle" (Bob Relf/Earl Nelson)
– Mixed Emotions
– Highwire
– Love Is Strong
– Anybody Seen My Baby?" (Jagger/Richards/k.d. lang/Ben Mink)
– Don't Stop
– Streets of Love
– Doom and Gloom
– One More Shot
3 condivisioni e commenti
Condividi e commenta!
Commenti