You Get What You Give, la canzone di oggi (VIDEO)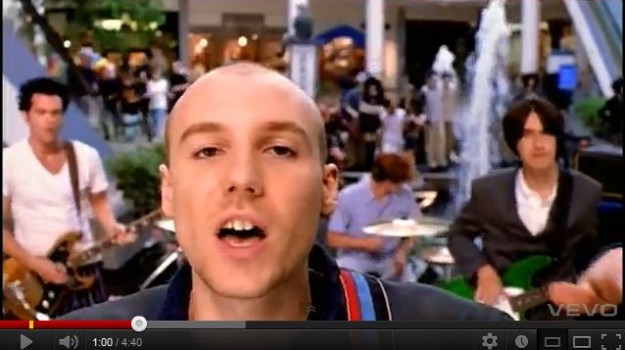 You Get what You Give è una di quelle canzoni simbolo degli anni '90 che in una giornata noiosa ti mette subito buon umore e grinta. Il brano pubblicato dalla band anglosassone dei New Radicals, uscì come singolo all'interno di Maybe You've Been Brainwashed Too, unico album del gruppo del 1998. Il brano ebbe un tale successo e fu così apprezzato che perfino The Edge degli U2 disse che avrebbe voluto scriverlo lui. La canzone fu scritta come una critica alla finzione e alla massificazione, riuscendo a trainare l'intero disco che riuscì a vendere circa un milione di copie.
You Get What You Give, la canzone di oggi (VIDEO)
La canzone era anche ben nota per alcune critiche pesanti che muoveva contro vari personaggi del settore musicale. Il verso provocatorio diceva: "Cloning while they're multiplying fashion shoots with Beck and Hanson, Courtney Love and Marilyn Manson. You're all fakes, run to your mansions. Come around, we'll kick your ass in", ossia "Si clonano e si moltiplicano servizi fotografici di Beck, degli Hanson, di Courtney Love e di Marilyn Manson. Siete tutti impostori, accorreremo alle vostre ville, vi daremo calci nel sedere".
Alexander a quanto pare, scrisse queste cose non tanto perché voleva criticare i suoi colleghi ma solo perché voleva vedere la reazione della stampa, convinto che si sarebbe concentrata unicamente su questo parte di testo ignorando tutto il resto.
I colleghi non se la presero a male, tranne Marilyn Manson che disse di non essere infastidito per i calci del sedere che il cantante dei New Radicals avrebbe voluto dare: "Ma non sopporto che metta Courtney Love nello stesso verso dove ci sono io. Per questo gli aprirò la testa quando lo incontrerò".
Anche se la band dopo questo lavoro non ha più fatto musica, il leader Gregg Alexander ha continuato a scrivere canzoni, spesso per altri artisti come Ronan Keating e Carlos Santana (per esempio, è sua la canzone The Games of Love che il chitarrista latino americano suonò con Michelle Branch).
2 condivisioni e commenti
Condividi e commenta!
Commenti