What a Wonderful World, la canzone di oggi (VIDEO)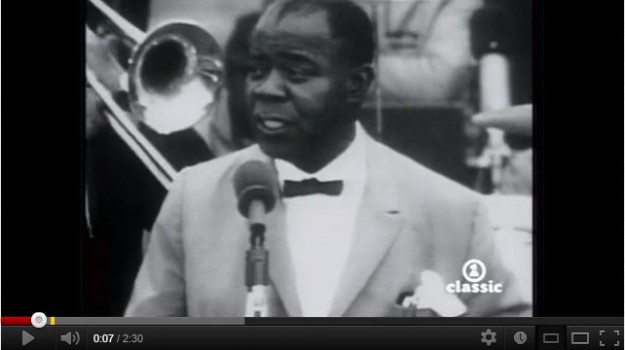 Potrai chiamarti anche Louis Armstrong e cantare una canzone stupenda, succede però che per ragioni non sempre chiare finisci per fare un fiasco a dir poco clamoroso, arrivando al successo solo in un secondo momento. Ebbene si, anche uno dei più grandi musicisti di tutti i tempi ha conosciuto l'insuccesso, paradossalmente proprio con uno dei suoi brani più celebri.
La canzone venne pubblicata nel 1968 e gli autori Bob Thiele e George David Weiss scrissero un testo che guardava al mondo con ottimismo, nonostante la forte intolleranza razziale del periodo, segnato sopratutto dal tragico assassinio di Martin Luther King. Il disco riuscì a vendere a malapena mille copie e non era nato con dei buoni presupposti dato che Bob Thiele litigò pesantemente in fase di registrazione con Larry Newton, presidente della ABC Records (etichetta discografica di Armostrong). Quest'ultimo voleva un brano swing e invece si ritrovò una ballata, scatenando uno scontro tra i due molto violento che portò Thiele a sbattere Larry Newton addirittura fuori la sala prove, in un clima a dir poco escandescente.
What a Wonderful World, la canzone di oggi (VIDEO)
Louis Daniel Armstrong (questo il suo nome completo), poi morì a New York il 6 luglio 1971 e solo da quel momento la canzone divenne una hit clamorosa. Un successo che poi fu amplificato anche dal cinema, grazie alla ripresa del brano nel film Good Morning Vietnam (con uno straordinario Robin Williams) e in occasione del documentario Bowling for Columbine di Michael Moore, dove in quest'ultimo caso spiccava il contrasto tra l'ottimismo della canzone e le scene di violenza.
Ad oggi, questa musica senza tempo, vanta innumerevoli cover di cui una versione punk dei Ramones e uno splendido omaggio da parte di Israel Kamakawiwo'ole nel medley con la canzone Somewhere over the rainbow.
Oggi What a Wonderful World è inserita addirittura nella Grammy Hall of Fame, alla faccia della fiacca accoglienza che ci fu all'esordio.
1 condivisioni e commenti
Condividi e commenta!
Commenti