"12/12/12 THE CONCERT FOR SANDY RELIEF" in CD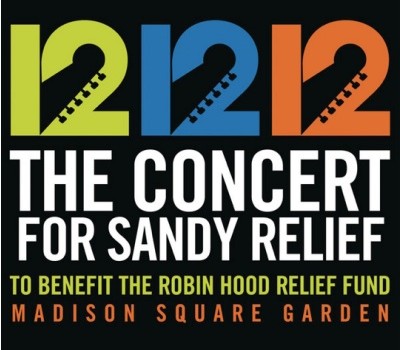 Com'era prevedibile immaginare, il mega evento live tenutosi a New York il 12 Dicembre 2012, che ha visto nomi tra i più importanti del panorama musicale salire sul palco al fine di raccogliere fondi per la gente colpita dall'Uragano Sandy, è diventato il album che, ovviamente, ha il medesimo intento.
"12/12/12 THE CONCERT FOR SANDY RELIEF" è già disponibile su tutti gli store digitali e non avrà una pubblicazione "fisica". E' acquistabile solo per intero, niente brani acquistabili singolarmente. In realtà, dovrebbe essere il resoconto, in studio, di quanto avvenuto sul palco. A conti fatti, però, non lo è perché nonostante il cast sia stellare, mancano molte delle parti più interessanti.
Qualche chicca non manca, come l'esibizione di Adam Sandler con Paul Shaffer (il band leader dello Show di David Letterman) che, per cercare di far "ridere sulla disgrazia" e stemperare la seriosità implicita dell'evento, si esibì in una divertente quando imbarazzante versione di  "Hallelujah" ("Hallelujah/Sandy screw ya/we'll get through ya'/cause we New Yorkers"… Cosa!!?? ndr), ma ciò non basta a distogliere l'attenzione sulle "amputazioni" rispetto al live:  niente "My City of ruins" di Springsteen(e nessuno dei due duetti con Bon Jovi), niente Kanye West (evidentemente considerato troppo "giovane" rispetto al resto del cast), manca "New York State Of Mind" di Billy Joel, e sopratutto l'assenza di "Cut me some slack", la canzone di Paul McCartney con quel che resta dei Nirvana, forse la più grande mancanza visto che musicalmente è stato il momento più chiacchierato.
Resta comunque una bella raccolta di grandi canzoni (24, 2 ore di musica, al prezzo di 13€) e grandi artisti, uniti per un bene comune, che probabilmente basta per giustificare l'acquisto.
La Track List:
Bruce Springsteen and the E Street Band:
"Land of Hope and Dreams"
"Wrecking Ball"
Roger Waters:
"Another Brick in the Wall (Part 2)"
"Us and Them"
"Comfortably Numb" (con Eddie Vedder)
Adam Sandler con Paul Shaffer
"Hallelujah (Sandy Relief Version)"
Bon Jovi:
"It's My Life"
"Wanted Dead or Alive"
Eric Clapton:
"Got to Get Better in a Little While"
"Crossroads"
Rolling Stones:
"You Got Me Rocking"
"Jumpin' Jack Flash"
Alicia Keys:
"No One"
Who:
"Who Are You"
"Baba O'Riley"
"Love, Reign o'er Me"
Billy Joel:
"Miami 2017 (Seen the Lights Go Out on Broadway)"
"Movin' Out (Anthony's Song)"
Chris Martin:
"Viva la Vida"
"Losing My Religion" (con Michael Stipe dei R.E.M.)
"Us Against the World"
Paul McCartney:
"Helter Skelter"
Alicia Keys, Jay-Z e Swizz Beatz:
"Empire State of mind"
2 condivisioni e commenti
Condividi e commenta!
Commenti